Sister Christine Vladimiroff
2013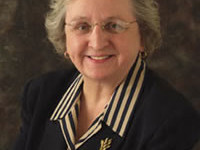 Sister Christine Vladimiroff, OBS, has dedicated her strong leadership skills in service to others, especially in fighting hunger and poverty in America. She served as President and CEO of Second Harvest, the nation's largest food bank network, as Board Chair of Bread for the World, a 60,000 member faith-based community, and as a delegate to the World Food Summit.
A former Superintendent of Schools for the Diocese of Cleveland, she served as prioress of the Benedictine Sisters, as President of the Leadership Conference on Women Religious in the United States and President of the Conference of Benedictine Prioresses. She is Executive Director of St. Benedict's Education Center in Erie and also leads the Pennsylvania Welfare to Work Program in six counties in Northwest Pennsylvania where she focuses much of her work helping refugees.
Throughout her life, Sister Christine has devoted her considerable energy and inspirational leadership to helping those in the greatest need in the state, the nation and throughout the world.