Governor Tom Corbett, First Lady Susan Corbett Honor Nine Women as Pennsylvania's Distinguished Daughters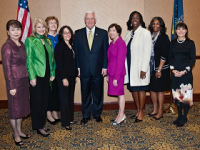 Harrisburg- Governor Tom Corbett and First Lady Susan Corbett are recognizing nine outstanding women from across the state as this year's Distinguished Daughters of Pennsylvania.
The women were recently honored with medals for their achievements, at an event in Harrisburg.
"Each one of these women has shown a tremendous commitment to making the world around her a better place," said Gov. Corbett. "It is my honor to today name them as the Distinguished Daughters of Pennsylvania. Their dedication, commitment, compassion and drive have impacted the lives of so many."
The 2014 Distinguished Daughters of Pennsylvania are: Carmen Twillie Ambar, Allentown; Lisa Caputo, New York, N.Y (Wilkes-Barre, hometown); Im Ja Choi, Philadelphia; Margaret Duckett, Philadelphia; Carolyn Duronio, Pittsburgh; Sylvia Hill Fields, Pittsburgh; Anne Lewis, Pittsburgh; Alba Martinez, Malvern; and Janice McLaughlin, Mary Knoll, New York (Pittsburgh, hometown.)
"As lifelong Pennsylvanians, Tom and I are proud to recognize this group of nine talented and motivated women," said First Lady Susan Corbett. "Their communities, and the commonwealth as a whole, have been enriched by their exemplary achievements."
Distinguished Daughters of Pennsylvania began in 1948 as a way to honor women who have shown distinguished service through a professional career and/or voluntary service. The women are nominated to receive the honor by non-profit organizations within Pennsylvania. They do not need to be a native of Pennsylvania, but must have lived in the commonwealth.
Media Contact: Governor's Office, 717-783-1116
Editor's Note: The 2014 Distinguished Daughters of Pennsylvania are listed below:
Carmen Twillie Ambar – Allentown, Luzerne Co.
Carmen Twillie Ambar, J.D., President of Cedar Crest College, is widely recognized for her commitment to the education of young women as future leaders in a global community and has won several prestigious awards for her support of women.
Under her leadership, Cedar Crest has launched more than 20 initiatives focused on global connectivity, civic engagement and health and wellness. She served as dean of Douglas College at Rutgers University, the youngest dean in the university's history, and as assistant dean of graduate education at the Woodrow Wilson School of Public and International Affair at Princeton University. Prior to her leadership in higher education, she was assistant corporation counsel in the New York City Law Department.
She earned her J.D. from Columbia School of Law, her Master's in Public Affairs from Princeton and her Bachelor's in Foreign Service from Georgetown. She and her husband are parents of triplets.
Lisa Caputo – Wilkes-Barre, Luzerne Co.
Lisa Caputo is an accomplished leader in national and international endeavors in both the public and private sectors. Currently Executive Vice President and Chief Marketing and Communications Officer at Travelers Companies, Inc., she has served in executive leadership positions for such companies as Citigroup where she was founder, chair and CEO of the company's highly successful Women & Co. She also held senior positions at Disney Publishing Worldwide and CBS Corporation.
Lisa worked at the White House as Deputy Assistant to President Clinton and Press Secretary to Hillary Clinton. She continued to serve as an advisor to Hilary Clinton in her candidacies for the Senate and for President as well as during her tenures as Senator and Secretary of State.
Lisa serves on the board of Best Buy Co, Inc. Her non-profit commitments include service on the boards of the William Fulbright Foreign Scholarship, the Sesame Workshop, New Visions for Public Schools and WNET Channel 13. Lisa graduated from Brown University and received her master's degree in journalism from Northwestern University.
Im Ja Choi – Philadelphia
Im Ja Choi is committed to ensuring that all Asian American senior citizens with language barriers are informed of and offered appropriate health care services. Applying her own experience of caring for her mother with cancer, she founded Penn Asian Senior Services, a nonprofit home health agency. It now serves 495 clients including 18% non-Asian elderly, and offers 11 different Asian languages and English. She also established a vocational school for entry-level health care workers and recently added an adult day care service.
Im Ja has been active in educational, civic, and community organizations including the Temple University College for Health Professionals, Montgomery County Community College, Diversity Council of the PA Department of Aging, and Philadelphia Asian American Women's Coalition.
She received the Ellis Island Medal of Honor and the Robert Wood Johnson Foundation's Community Health Leader Award. She graduated from Korea University and received her master's degree in Organizational Dynamics from the University of Pennsylvania.
Margaret Duckett – Philadelphia
Margaret Pace (Peggy) Duckett chaired Miracle at Philadelphia, the U.S. Constitutional Convention Bicentennial Exhibition at Independence National Park, and served on the founding boards planning the architecture, exhibitions and education for the National Constitutional Center and for the Museum of the American Revolution.
Appointed to the National Council of the National Endowment for the Humanities by President George H.W. Bush, she served for 13 years within three Presidential administrations and chaired four of the five divisions of NEH. She is the longest serving member of the National Council on the Humanities.
Her work through two State Boards of Education and on five current Boards providing historic and educational materials, conservation and museum exhibitions continue this lifelong work. A native of Texas, living in Pennsylvania since the 1970's, Peggy attended Smith College, graduated from the University of Texas, and earned a master's degree from Tufts University.
Carolyn Duronio – Pittsburgh
Carolyn Duronio, an attorney with Reed Smith in Pittsburgh, is highly respected as an expert on non-profit governance and is counsel to many leading state and national not-for-profit groups. She served as Managing Partner for the firm's Pittsburgh office and currently is a member of the Executive Committee. Carol is included in The Best Lawyers in America (2003-2015).
In addition to her impressive professional accomplishments, her dedication to her family and community has been extraordinary. For many years, Carolyn was a loving caregiver to her younger sister who was born with special needs. Her dedication to community development is evident through her many board affiliations, both past and present, including The Children's Institute, Family Services of Western Pennsylvania, Carnegie Museums of Pittsburgh, The Frick Art and Historical Center and the Pittsburgh Cultural Trust.
She graduated Phi Beta Kappa and magna cum laude from Harvard where she also received her J.D. magna cum laude.
Sylvia Hill Fields – Pittsburgh
Sylvia Fields provides philanthropic leadership to the Pittsburgh region as the executive director of the Eden Hall Foundation, which provides funding for health, education and social welfare programs. She was the first and only African American woman to direct a major private foundation in the Pittsburgh area.
Named twice as one of Pittsburgh's 50 Most Influential African American Women by the New Pittsburgh Courier, her work has benefited programs on the local, state and national levels. Sylvia was invited to the White House to share information on exemplary initiatives and grants made by the Eden Hall Foundation. In 2012, the National Recreation and Parks Association recognized her along with the Pittsburgh Parks Conservancy for their important work in supporting public-private partnerships for parks.
Sylvia is a coalition builder and a true partner with many organizations including Carnegie Museums of Pittsburgh, the World Affairs Council of Pittsburgh, and her alma mater Seton Hill University, and she serves on the national boards of the YWCA and the World Affairs Council.
Anne Lewis – Pittsburgh
As a business leader, Anne Lewis is Board Chair and co-owner of Oxford Development Company, one of Pittsburgh's most prominent privately owned enterprises. Committed to the region, Anne gives back to the community though her work as a volunteer and member of various governing boards. She has been long supported the victims of ALS (Lou Gehrig's disease.) In 2010, the ALS Association of Western Pennsylvania established the Anne Lewis Humanitarian Award Fund in honor of her achievements.
Anne is a tireless fundraiser for causes related to improving the lives of children and families and enhancing community assets. Currently, she is Chair of the Board for Point Park University and serves on the boards of United Way of Allegheny County, Pittsburgh Promise, the Pittsburgh Foundation, The Fred Rogers Company and Allies for Children.
She has been commencement speaker and loyal supporter of her alma mater, Carnegie Mellon University's Heinz College.
Alba Martinez – Malvern, Chester Co.
Alba Martinez is a Principal in Vanguard's Retail Investor Group and leads the Retail Services business department. Prior to entering financial services, she devoted 23 years to law, human services and government in Southeastern Pennsylvania.
Alba began her career as an attorney for Community Legal Services in Philadelphia, was Executive Director of Congreso de Latinos Unidos, the leading provider of bilingual/bicultural human services in Pennsylvania, was appointed by Mayor Street as Commissioner of the Philadelphia Department of Human Services, and served as President and CEO of United Way of Southeastern Pennsylvania before joining
Vanguard. She has been active in numerous civic and community organizations, and serves on the board of the Main Line Health System.
Alba graduated magna cum laude from the University of Puerto Rico, and received her law degree from Georgetown in Washington, D.C. She and her partner, Roberta Trombetta, live in Mount Airy, Philadelphia and have two children.
Janice McLaughlin – New York (Pittsburgh)
Sister Janice McLaughlin, MM, is an author, editor, journalist, adult educator and community organizer. Born in Pittsburgh, Sister Janice has worked in Eastern and Southern Africa for more than 30 years.
Throughout her career, Sister Janice has demonstrated a commitment to a just world and solidarity with the economically poor. Currently, the President of Maryknoll Sisters, Sister Janice's work has been recognized widely. The author of several books, Ostriches, Dung Beetles and Other Spiritual Masters received the top honor for a first-time author from the Catholic Press Association in 2010.
Sister Janice documented atrocities in Rhodesia where she was arrested and detained by the government before being deported. She was the first organizing Secretary for the Zimbabwe Foundation for Education. She has testified before House and Senate Committees on African Relations and received honorary doctorate degrees from Marquette University and Albertus Magnus College. She earned her doctorate in religious studies from the University of Zimbabwe.